Grande opening: Milan gets Italy's first Starbucks

Italy Grande opening: Milan gets Italy's first Starbucks
US chain hopes 2,300 sq metre flagship will entice Italians in for a new coffee experience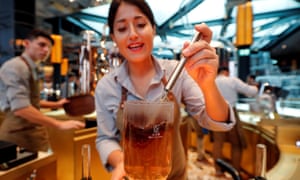 The US coffee chain Starbucks has opened its first branch in Italy, with an upmarket Milan "roastery" leading the charge of an ambitious plan to conquer the home of the espresso.
The Seattle-based multinational is well established elsewhere in Europe, but its entry into the Italian marke t had experienced delays.
It hopes its 2,300 sq metre Milan cafe, which it describes as "the most beautiful Starbucks in the world", will entice customers in for a new coffee experience.
The building, a cavernous former post office near the city's cathedral, includes a heated marble-topped coffee counter, cocktails in a mezzanine-level bar and a giant bronze cask used in the roasting process.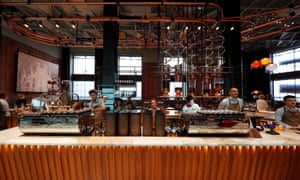 The coffee chain's former chief executive Howard Schultz, who left in June amid speculation about a possible run for the White House in 2020, has repeatedly said the company wo uld come to Italy with "humility".
"I came to Milan as a young man, in 1983 ... my imagination was captured by Italian coffee," he said at an industry event in May. "We are not coming here to teach Italians how to make coffee, we're coming here with humility and respect, to show what we've learned."
Italy is Starbucks' 78th global market, and the Milan opening comes 20 years after its first European store opened in London. The company has described the Milan store as "the crown jewel of Starbucks global retail footprint", and said it has plans for more cafes in the city.
According to the Italian catering federation FIPE, 6bn shots of espresso are consumed each year in cafes in Italy.
Matteo Figura of the market research firm NPD Group said Starbucks was entering the Italian market at the right moment. While previously an espresso was "an opportunity to have an energy 'shot', consumers today increasingly care more about quality and the experience they can have", he said.
Starbucks will primarily target 18- to 34-year-olds, said Figura, adding that the Italian market had room for both traditional cafes and Starbucks, as they tended to attract different consumers.
Agence France-Presse and Associated Press contributed to this report
Topics
Starbucks
Coffee
Europe
Food & drink industry
news
Share on Facebook
Share on Twitter
Share via Email
Share on LinkedIn
Share on Pinterest
Share on Google+
Share on WhatsApp
Share on Messenger
Source:
Google News Italy
|
Netizen 24 Italy