Italy's economy stalls as eurozone slows down

Business Business Italy's economy stalls as eurozone slows down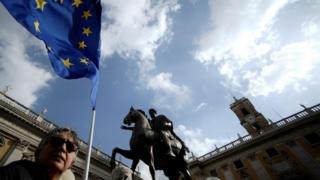 Italy's economy came to a standstill in the third quarter of the year, registering no growth at all,
It comes as the new coalition government is arguing with the European Commission over the need for an expansionary budget to boost growth.
Meanwhile, figures from the European Union showed econom ic growth in the 19 countries using the euro currency slowed by more than expected.
Eurozone growth slowed to 0.2%, from 0.4% in the previous quarter.
Growth across all 28 countries of the EU fell to 0.3% from 0.5%.
Italian Prime Minister Giuseppe Conte said the zero growth in Italy justified Rome's expansionary 2019 budget, which the European Commission has rejected because it breaks EU rules.
He said on Facebook; "The slowing GDP is another reason to go full steam ahead with the budget."
Claus Vistesen, chief eurozone economist at Pantheon Macroeconomics, said: "This is a sobering number for the new government, though we suspect that it will meet it with fighting talk, at least initially.
"After all, with growth now stalling, fiscal stimulus is needed more than ever, or so at least the argument will go in Rome."
Waning optimism
Figures from the French statistics agency INSEE showed Franc e's economy picked up thanks to a rebound in consumer spending.
It grew by 0.4% in the third quarter, compared with 0.2% in the previous three-month period, but the rate was less than forecast, meaning the government may miss its full-year growth targets.
Separately, the European Commission said economic sentiment dropped in the eurozone for the 10th consecutive month.
Its measure of sentiment fell to 109.8 points in October from 110.9 in September - the biggest drop since March.
Top Stories
US gangster 'Whitey' Bulger found dead
James 'Whitey' Bulger, the Boston gangster whose life inspired films, was reportedly killed in jail.
30 October 2018
Synagogue shooting victims' funerals start
30 October 2018
A woman trying to make history
30 October 2018
Features
Some truths about Trump's birthright plan
The woman vying to make US history
Social media identifies mystery crash couple
My life in the USA - Wayne Rooney
Deadly storms hit Italy, flooding Venice
Danes hit back at US over living standards
Surgery students 'losing dexterity to sew'
Video
Why is George Soros targeted by the right in US and Europe?
Video
How the food we eat destroys Brazil's savanna
Elsewhere on the BBC
Football phrases
15 sayings from around the world
Full article Football phrases Why you can trust BBC News
BBC News Services
On your mobile
On your connected tv
Get news alerts
Contact BBC News
Source:
Google News Italy
|
Netizen 24 Italy