Slower Eurozone Growth In Q3 Not A Major Concern, But Watch Italy


Eurozone GDP growth was very soft in the third quarter, coming in at 0.6% for the three months to September on a seasonally adjusted annualized basis, against consensus expectations of around 1.5%. While the release is disappointing, we caution against extrapolating this weakness in quarters ahead, for a few reasons:
Business surveys, and the Purchasing Manufacturing Index (PMI) in particular, have been pointing to somewhat healthier quarterly growth of 1.25% to 1.5% in recent months.
There has been a clear pattern of upward revisions in eurozone GDP in expansionary phases of the business cycle. This could be the case again for the last quarter and for previous quarters more broadly.
There were temporary factors that weakened growth in the middle of the year - first and foremost disruptions in car production from new car emissions testing procedures (affecting German growth significantly given the importance of car production in the country, but also other countries).
The turnaround in oil prices since the start of October, if sustained, should help household income and consumer spending ahead.
Italian growth stagnating
What's more worrying than the GDP print itself is that the eurozone PMI took a step down in October, following the stabilization seen in previous months. And, perhaps even more importantly, the weakness in Italy looks striking. The Italian economy stagnated in Q3 according to the flash GDP release, and the PMI points to negative growth early in Q4.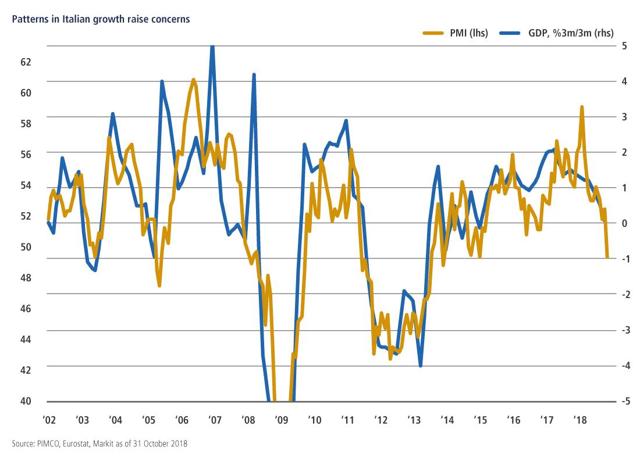 Weak growth in Italy is likely linked to - and risks exacerbating - the ongoing rise in sovereign spreads in the country, given feedback loops on public finances, bank capital positions and financial conditions mo re broadly, and rising pressures on the government to keep the population happy.
Investment implications
A weakening macro picture along with rising political risks in Italy underscores caution in our portfolios, where we remain underweight peripheral sovereigns and European risk assets in general.
Alongside continued low inflation, these developments also suggest that the European Central Bank will struggle to deliver the modest tightening discounted in forward prices for this hiking cycle, which the market currently expects to begin in late 2019. This suggests that high quality European sovereign bonds, i.e. Bunds, continue to offer decent value despite the low level of absolute yields.
Disclosure: All investments contain risk and may lose value. This material is intended for informational purposes only. Forecasts, estimates and certain information contained herein are based upon proprietary research and should not be considered as i nvestment advice or a recommendation of any particular security, strategy or investment product. No part of this material may be reproduced in any form, or referred to in any other publication, without express written permission. PIMCO is a trademark of Allianz Asset Management of America L.P. in the United States and throughout the world. THE NEW NEUTRAL is a trademark of Pacific Investment Management Company LLC in the United States and throughout the world. ©2018, PIMCO
Source:
Google News Italy
|
Netizen 24 Italy